I sent an email to the monks and they sent a lovely response with the English translation
So these are the correct chants from the source

============================================================================================
Hello Laura,
I hope this finds you healthy, happy, and looking forward to the new year. There are 2 chants: Mahakala Mantra protector of Dharma ; Hum Hum Mahakala praside praside Hrim Hrim Svaha Shambhu Mahakala Shani
The ending chant on L490 is a prayer invoking the Hundred Deities of the Land of Joy. In Tibetan it is pronounced Gaden Lha Gyema.
I will attach the prayer with the Tibetan pronunciation and the English translation
"The most fundamental harm we can do to ourselves is to remain ignorant by not having the courage and the respect to look at ourselves honestly and gently" - Pema Chodron---

GADEN LHA GYEMA
INVOCATION
GA-DEN HLA-JI NGO-JYI THUG-KA NEY
RAP-KAR SHO-SAR PUNG-DEE CHU-DZIN TSER
CHO-KYI GYEL-PO KUN-CHEN LOZANG DRAG
SEY-DANG CHE-PA NE-DIR SHEG SU SOL
From the heart of the Lord of the Ganden Devas emerges
a brilliant white cloud, like a great mass of fresh yogurt.
Atop sits Tsongkapa all knowing, King of Dharma;
we request your coming to this place along with your great disciples.
THE REQUEST TO REMAIN
DUN-JYI NAM-KHAR SING-TI PEE-DEE TENG
JE-TSUN LA-MA JYEH-PI DZUM-KAR CHYEN
DAG-LO DE-PE SO-NAM SHING-CHOG TU
TAN-PA JYEH-SHIR KAL-DJAR JUG-SU SOL
My lord Guru is seated before me upon a lion-throne,
lotus and moon cushion, His body is white and he smiles blissfully.
Please remain many eons and serve as the great merit field for
the growth of my mind's faith, and for the increase of Lord Buddha's teachings.
THE LIMB OF PROSTRATION
SHE-JYEH CHON-KUN JAL-WEY LO-DO THUG
KAL-ZANG NA-WEY JYIN-JUR LIK-SHEY SUNG
DRAG-PI PEL-JYI HLAM-MER DZEY-PI KU
THONG-THO DRAN PI DON DHAN LA-CHAG TSAL
His omniscient wisdom-mind encompasses all that is existent.
His voice is a profound teaching, which ornaments the ear of the fortunate pupil.
His body's beautiful radiance evokes wonderous admiration.
To Lama Tsongkapa, whom merely viewing hearing or contemplating earns one great merit,
I make prostration.
THE LIMB OF OFFERING
YIH-WONG TCHO-YON NA-TSOG ME-TOG DANG
DRI-JEM DUG-PO NANG-SAL DRID-CHAB SOG
NGO-SHAM YIH TUL TCHO-TIN GYA-TSO DI
SO-NAM SHING-CHOG CHE-LA CHO-PA BUL
I present to you, great merit field, Tsongkhapa, beautiful offerings,
water, a display of flowers, fragrant incense, butter-lamps,
perfumes and more both physical, and metal offerings,
vast as the clouds and wide as the ocean.

THE LIMB OF CONFESSION
DAG-GI TO-MEY DU-NEH SAG-PA YI
LU-NGAG YIH-KYI DIG-PA CHI-JYI DANG
CHEY-PA DOM-PA SUM-JI MI-TUN SHO
NYING-NEH JO-PA TRAH-PO SO-SOR SHAG
The unwholesome actions of body, speech and mind,
which I have accumulated over a measureless period,
especially actions contrary to the three vows, (Vinaya, Bodhisattva, Vajrayana) I regret extremely and from the depths of my heart, and I reveal each and every such action.

THE LIMB OF REJOICING
NIK-MI DU-DIR MANG-THO DRUP-LA TSON
CHO-JYED PANG-PI DAL-JOR DON-YO SHYE
NGON-PO CHEY-KYI LAP-CHEN DZE-PA LA
DAG-CHAG SAM-PA TAG-PEH YI RANG NGO
We totally rejoice in your magnificent achievements,
my Lord who received numerous teachings and performed
the practices with utmost diligence, who abandoned the
eight worldly objectives and made the most meaningful use of
the eighteen opportune conditions during these degenerate times.

THE LIMB OF REQUESTING TO TURN THE WHEEL OF DHARMA
JE-TSUN LA-MA DAM-PA CHEY-NAM KYI
CHO-KU KA-LA CHEN-TI TIN-TIK NEY
JI-TAR TSAM-PI DUL-SHIH DZIN-MA LA
ZAB-JI CHO-KYI CHAR-PA WHAP-TU SOL
All you Holy gurus, unerring in conduct, may you precipitate
a rain of realization of Bodhicitta and Sunyata from the clouds of all knowing compassion, which fills the Dharmakaya sky,
providing for the field of disciples precisely what is needed.
THE REQUEST TO REMAIN
NAM-DAG WO-SAL YING-LEY JING-PA YI
ZUNG-JUG KU-LA CHAR-NUB MI-NGA YANG
THA-MAL HNANG-NGOR ZUG-KU RAG-PA NYI
SEE-THEE BAR-DU MI-NUB TAN-PAR SHUG

May the Vajra body created from the purity of clear,
free of the rising and setting of cyclic existence
but visible to the ordinary viewer only in its unsubtle, physical form, stay on unchanging, without waning, until Samsara ends.

30 Seconds To Mars In 'Good Spirits' Despite $30 Million Lawsuit
'The great news is the music is better than ever,' frontman Jared Leto says of upcoming album.
By Chris Harris
Dec 1 2008 3:15 PM EST
Jared Leto isn't going to let a little thing like a $30 million lawsuit slow him or his band, 30 Seconds to Mars, down. In fact, if anything, it's made them even more prolific.
According to Leto, 30 Seconds to Mars has been hard at work on the yet-to-be-titled follow-up to 2005's A Beautiful Lie, for which they've enlisted the talents of British post-punk producer Flood (Nine Inch Nails, Sigur Rós). Even though there's a $30 million rain cloud looming overhead, Leto said the band's in "good spirits" and that they're "working together as a band better than we ever have before," and are feeling more inspired than they have in years.
"Our only concrete goal is to make something amazing, and something that we're proud of, and something that's fulfilling and challenges us," Leto told MTV News recently. "We really try to just collectively participate in a creative experiment that hopefully ends up being something we're really proud of. But when you're in it, you can't help but be 1,000 percent focused on what's going on in that time. That's why I like making music so much, because it really commands your entire being. It takes all of you. And when you're making it with other people as well, it's a really unique experience. It's really making an actual 'record' of this time in our lives, and it's saying something in creative terms about who and what we are — our thoughts, our fears, our hopes, our dreams."
Leto claims that this new LP is inspired by a number of life experiences he's been through, and that the band has been able to evolve from A Beautiful Lie, making this next record his favorite effort to date.
"We've had this phenomenal experience travelling the world, and as you come into contact with different cultures, different people, you can't help but be influenced by that in some sort of way," he said. "I think this record is about faith, about spiritual matters, and that just happens to be what we're thinking about and talking about in our lives right now. I said when the last album came out that I wanted to destroy the first record, which I think we did. We took a dramatic turn from the first to the second, and I think this new record follows that path. It's exciting to us, and we're really passionate about it."
Of course, the $30 million lawsuit — filed by the band's former label, Virgin Records, back in August — is still pending, and Leto freely spoke about the suit, which contends the guys failed to produce three of the five records they were obligated to deliver under their 1999 contract, which the band entered into with the now-defunct Immortal Records.
In 2004, Virgin took over that contract, which the band later "repudiated," claiming that they were "excused from such performance from and after July 4, 2008, pursuant to California Labor Code Sec. 2855 (a)." That law mandates that a contract "may not be enforced against the employee beyond seven years from the commencement of service under it."
"It's our first lawsuit," he joked. "When you have a $30 million lawsuit against you, it's part of your life. Some days you feel invincible, and other days you can be obsessed with it. Some days you can get a little pissed. We've always had a phenomenal relationship with our record company. We have been sued for terminating our record contract, and, really, for exercising our legal right. We've been signed for over nine years now, and under California law, you can't be bound to a contract for more than seven years."
Leto said the band will challenge the filing, because in his opinion, the suit doesn't have legs.


http://www.mtv.com/videos/news/322622/the-music-is-better-than-ever.jhtml#name=news&id=1600410
http://www.mtv.com/videos/news/322623/30-seconds-of-legal-lingo.jhtmlid=1600410
http://www.mtv.com/videos/news/322624/weve-always-tried-to-work-things-out.jhtmlid=1600410
VALHALLA" is a Norse Mythology myth. It's like Heaven. It's a special Hall for Warriors killed in battle
For this interpretation of the lyrics I followed through with the thematics of Mind Control and Struggle
that are on the S/T album. It nods to Scientology in my opinion, especially since their very first website
had the Scientology MISSION STATEMENT on it....*see pic at the bottom

-------------------------------------------------------------------------------------------------------------------------------

THIS IS LIFE
/
IT'S A TEST/
IT'S A GAME/DID YOU PASS/
PLAY AGAIN/IN THE HOPE/THAT YOU SEE/
WHERE YOU'VE BEEN

Scientology uses an E-Meter to clear the mind. It's a series of tests and levels and the goal is to clear the mind of negativity, bad habits or addictions


IT'S THE FAME/ IT'S THE DRUGS/ IT'S THE SOCIAL CIRCLE YOU'RE NOT PART OF/ ITS THE FEAR/IT'S EVERYBODY ELSE IT CAN'T BE ME

Many famous people are Scientologists, NarcAnon is a rehabilitation program, A CLEAR is the ELITE level that very few achieveThe fear is that they are punished if they don't follow their teachings and certain behavior is discouraged, denial of addiction

YOU'RE THE REASON I CAN'T CONTROL MYSELF (repeats)
I CAN'T CONTROL MYSELF

Can't be in control because of Scientology

I AM DONE/ WITH THIS WAR/ I WILL SPIT RIGHT IN THE FACE OF ALL YOU WHORES/ IN THE HOPE/ THAT YOU SEE/ WHERE YOU'VE BEEN

Done with the Struggle and wants out, wants to show them that they failed in converting
They are whores because they convert people and use them as pawns,the famous ones are walking billboards


IT'S THE FAME/ IT'S THE DRUGS/ IT'S THE SOCIAL CIRCLE YOU'RE NOT PART OF/ IT'S THE FEAR/ IT'S EVERYBODY ELSE IT CAN'T BE ME

confusion and denial, looking for someone to blame


YOU'RE THE REASON I CAN'T CONTROL MYSELF

lost control and helpless

IT'S THE WORLD/ ON IT'S KNEES/ IT'S THE HEAVEN EVERYBODY SEEMS TO NEED/ IT'S THE LIGHT/ IT'S THE FOCUS THAT YOU CANNOT SEEM TO FIND


Scientology has an agenda for World domination, Everyone wants to achieve the Elite level of Clear *Scientology Valhalla*
The light is Xenu, they can't find focus because of being controlled


THE FAME/ THE FEAR/ THE SOCIAL CIRCLE THAT YOU CAN'T GET NEAR/ THE DRUGS
IT'S EVERYBODY ELSE IT CAN'T BE YOU

Confusion

YOU'RE THE REASON I CAN'T CONTROL MYSELF (repeats)


*In short this VALHALLA is the Heaven for the ELITE
and the converts become warriors in the cycle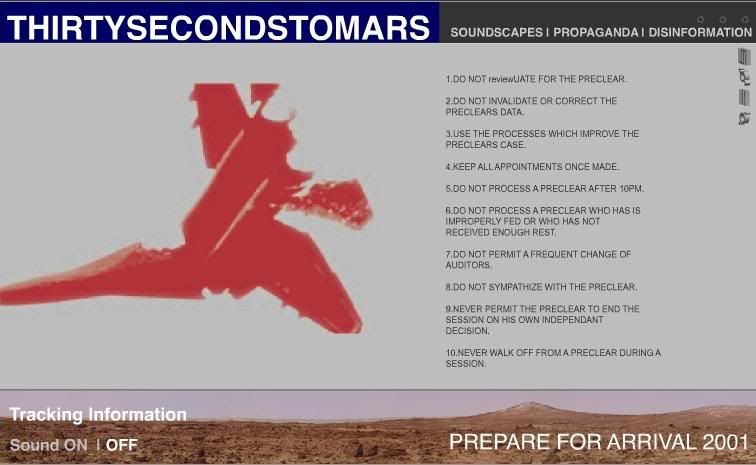 "
Monday, November 03, 2008
V O T E
Tomorrow - Tuesday November 4th - marks a historic day for all
Americans.
We have the opportunity to collectively speak our minds and participate
in choosing an individual who can help lead us to new heights and
possibilities and, possibly, redefine the future of America.
Yesterday I voted. And it felt great. As I was voting for both our
next President and the many different propositions, I was struck by what
a special gift it is that we are all able to participate in such an
important way and fortunate we are to have this right.
We are all aware that this is an important time for Americans; we are at
a political and economic crossroads. So tomorrow, whatever your belief
may be, whatever path you've chosen to follow, demand that your voice be
heard and make your mark on history.
-j
A non partisan message from Jared Leto
03/11/2008
The Tings Tings Add English Twist to the EMAs!
..The Ting Tings have just been added to our already massive performers line-up for the 2008 MTV Europe Music Awards! The British power-pop duo will make their EMA debut this Thursday.
The Ting Tings – Katie White and Jules De Martino – have released several massive singles this year including the UK number 1 hit 'That's Not My Name'. Their debut album We Started Nothing also hit Number 1 and is the only debut album from a UK band to achieve Platinum status in 2008 to date.
Following the success of last year's VIP Bar,
JARED LETO AND MEMBERS OF 30 SECONDS TO MARS ARE TO HOST THE VIP BAR IN THE ECHO ARENA. THE BAND IS NOT ONLY NOMINATED IN THE ROCK OUT AND VIDEO STAR CATEGORIES BUT LETO WILL ALSO PRESENT AN AWARD.
Triple-nominated Leona Lewis – in categories Album of the Year, Act of 2008 and Europe's Favourite Act – will also attend the MTV Europe Music Awards to present an award and is joined by multi-platinum singer/songwriter Anastacia. Anastacia last performed at the 2004 MTV Europe Music Awards in Rome and returned in 2005 in Lisbon with Leto as a presenter.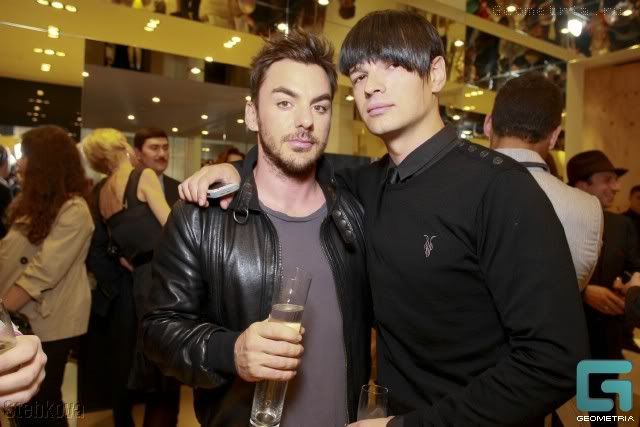 SOURCE
30 SECONDS TO MARS GOING TO EMA'S
It seems that major label giant Warner Music Group is looking to further it's grasp on the industry with a recent bid made to fellow giant EMI. Warner also attempted a merger with EMI last year, but halted progress due to a similar deal with two other major label music groups facing difficulties in European courts.
Though no specific details have been released, EMI has confirmed an offer was made, and speculation on the possible deal has created both optimism and skepticism on the impact such a merger could have. If successful, the new music group would have roughly 25% of the market.
Though EMI attributes it's difficulties to the overall music industry, analysts are quick to point out that fellow major music labels Universal and Warner have both faced similar problems, with less financial impact. Instead, they've pointed out issues at EMI such as "persistent weakness in the United States, lack of promising new tunes and internal control problems." EMI currently holds only about 10% of the music market in the U.S., a small figure for one of the largest markets in the world.
SOURCE
EMI CONFIRMS WARNER BID FOR MERGER